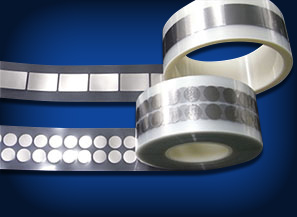 Shield Yoke Sheet for Wireless Chargers FINEMET® MS Series
Processed laminated sheet using low-loss, high permeability nano-crystalline material FINEMET® helps reduce noise and energy loss of wireless electric power transmission and also magnetic shield yoke sheets for small electronic devices.
We propose a method to use materials tailored to your company.
MS-HiQ Series / FINEMET® Magnetic Shield Yoke Sheet for Wireless Charging
A magnetic sheet with a significantly improved Q value for shield yoke applications of wireless charging.
Significantly improved Q value of our conventional MS series by controlling the magnetic permeability
Achieved high mechanical reliability with excellent flexibility and impact resistance
Superiority in the assembling process of the wireless charging system (forming and handling such as cutting, punching, etc.)
Achieved thinner and lighter sheet with the high saturation magnetic flux density of our FINEMET® sheet(1.23T, ref. Mn-Zn(ML29D) ferrite: 0.54T) (Using FINEMET® is 50% thinner and 35% lighter than with ML29D)

*

Our evaluation value by ring core
Measurement conditions: f = 85kHz, V = 0.03V
How FINEMET sheet is used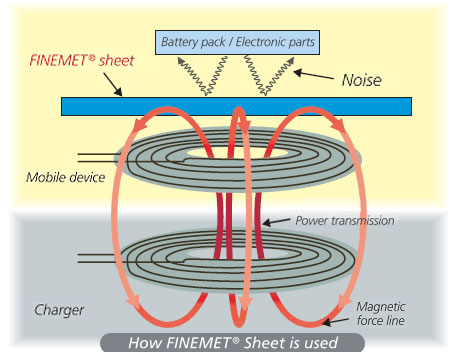 Click here to download the document
MS series / Magnetic shield yoke sheet for small electronic devices
The MS series laminated with the nanocrystal soft magnetic material Finemet® is suitable for shield yokes of electronic devices.
Thin: 60μm thickness
Lightweight: 0.4g/50mm
Low loss : 300kW/m3(100kHz 0.2T)*
High permeability: 15,000(100kHz)*
High saturation flux density: 1.23T(800Am)*
*

Value of FINEMET® toroidal core measured by Hitachi Metals, Ltd.
Click here to download the product catalog
Soft Magnetic Materials and Components (for FINEMET® Applied Product and Ribbon)


ABOUT US
Leading sustainability by high performance