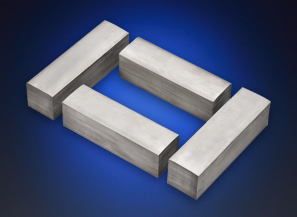 Amorphous Block Core AMBC Series
AMBC series block cores made of Fe-based amorphous alloy Metglas™ are suitable for inductors especially for those used in high-power capacity. These cores contribute to improve efficiency of inductors.
We propose a method to use materials tailored to your company.
1

Low core loss

AMBC series block cores have much lower core loss compared to Si-Fe laminated cores.

2

High saturation flux density and high packing factor

AMBC series block cores contribute to making small size medium frequency AC Inductor.

3

Multiple gap core

Easy to build multi gap core.

4

Custom size core is available

We offer custom sized cores according to your requirements.
Medium frequency AC inductor for inverter for alternative energy generator, motor drive, DCDC converter, etc.
Click here to download the product catalog
Soft Magnetic Materials and Components (for Amorphous Applied Product)


ABOUT US
Leading sustainability by high performance