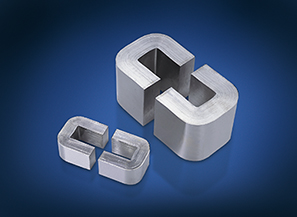 Low Core Loss Cut Cores
Amorphous cut cores (Metglas™ AMCC series) and FINEMET® cut cores (FINEMET® F3CC series) are suitable for power transformer or inductor (choke coil) especially used in high-frequency range. Those cores contribute to downsize, improve efficiency for the transformer and inductor.
We propose a method to use materials tailored to your company.
Click here to download the product catalog
[USA]
Proterial America, Ltd.
Chicago Office
85 W. Algonquin Rd., Suite 400 Arlington Heights,
IL 60005, U.S.A.
TEL : +1-847-364-7200
FAX : +1-847-364-7279
[Europe]
Proterial Europe GmbH
Head Office
Immermannstrasse 14-16,
40210 Duesseldorf, Germany
TEL : +49-211-16009-67
FAX : +49-211-16009-30
Milano Branch Office
Via Modigliani 45, 20090 Segrate, Milano, Italy
TEL : +39-02-7530188
FAX : +39-02-7532558
London Branch Office
Sefton Park, Bells Hill, Stoke Poges, Bucks. SL2 4HD. U.K.
TEL : +44-1628-585000
[Asia]
Proterial Asia Pacific Pte. Ltd.
12 Gul Avenue, Singapore 629656
TEL : +65-6861-7711
FAX : +65-6861-9554
Proterial Hong Kong Limited
8/F., Building 20E, Phase 3, Hong Kong Science Park, Pak Shek Kok, N.T., Hong Kong
TEL : +852-2724-4183
FAX : +852-2311-2095
Proterial (China), Ltd.
11F, Chong Hing Finance Center,
No. 288, Nanjing Road (West),
Shanghai, 200003, China
TEL : +86-21-3366-3000
FAX : +86-21-3366-3012
Soft Magnetic Materials and Components (for Amorphous Applied Product)


ABOUT US
Leading sustainability by high performance