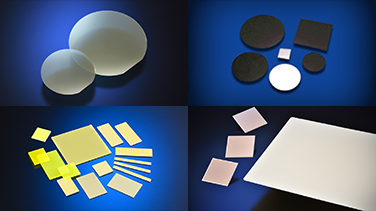 Ceramic components
Our laminated ceramics technologies support
more sophisticated information systems
Combined with our core technologies including sheeting and laminating process technologies, our RF circuit design technologies offer innovative products to address a wide range of demands by extensively integrating Computer Aided Engineering (CAE) systems.
Our products are most instrumental in developing miniaturized and smarter information system components.
Our ceramic scintillator materials are extensively integrated in medical and analytical devices to meet their ever-demanding requirements.
We propose a method to use materials tailored to your company.
A list of Ceramic components
Power Electronics Materials Business Unit

ABOUT US
Leading sustainability by high performance