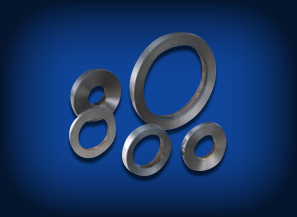 "FINEMET®" Pulsed Power Cores
"FINEMET®" pulsed power cores use our newly developed nanocrystalline soft magnetic material"FINEMET®" which has both high magnetic flux density and low loss properties. The cores are insulated by thin ceramics film which provides high voltage insulation between the ribbon layers. These cores are suitable for saturable cores and step-up transformer cores used in high voltage pulsed power supplies for Excimer lasers and accelerators, and for cavity cores used in induction linacs and RF accelerators.
[USA]
Proterial America, Ltd.
Chicago Office
2101 S. Arlington Heights Road Suite 116
Arlington Heights, IL 60005-4142
TEL : +1-847-364-7200
FAX : +1-847-364-7279
[Europe]
Proterial Europe GmbH
Head Office
Immermannstrasse 14-16,
40210 Duesseldorf, Germany
TEL : +49-211-16009-0
FAX : +49-211-16009-60
[Asia]
Proterial Asia Pacific Pte. Ltd.
12 Gul Avenue, Singapore 629656
TEL : +65-6861-7711
FAX : +65-6861-9554
Proterial Hong Kong Limited
8/F., Building 20E, Phase 3, Hong Kong Science Park, Pak Shek Kok, N.T.,
Hong Kong
TEL : +852-2724-4183
We propose a method to use materials tailored to your company.


ABOUT US
Leading sustainability by high performance