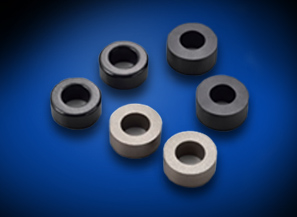 Amorphous Powder Core HLM50 Series
HLM50 series have low loss, high magnetic flux density, and high reliability using our uniquely processed amorphous powder. This series is suited to coils for higher switching(100-200kHz) power electronics applications.
We propose a method to use materials tailored to your company.
Low loss amorphous powder core suitable for high efficiency power converter.
1

High Saturation Flux Density Bs
Higher saturation flux density compared to Sendust powder core.

2

Low Core Loss
Lower core loss than Sendust powder core.

3

Suitable for PFC Circuit and Boost/Buck Converter

4

Three Types of Core are in our Production Lineup
Bare core, cased core and coated core can be applied depending on customer application.
DC Superposition Characteristics of Incremental Permeability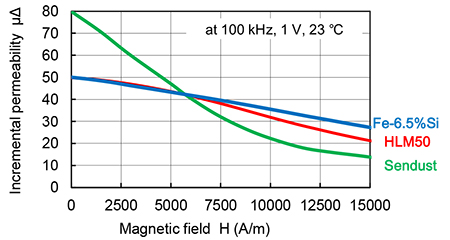 Frequency characteristics of iron loss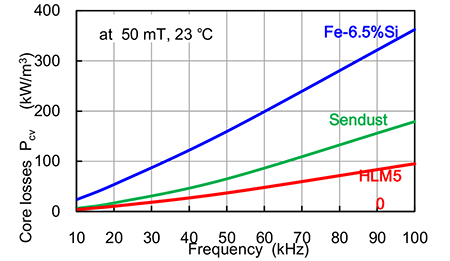 Power factor improving reactor for on-board chargers, air conditioners, UPS, power conditioners, etc.
Normal mode choke coil for EMI countermeasures.
Smoothing choke coil.
Click here to download the product catalog
Soft Magnetic Materials and Components (for Ferrite Applied Product)


ABOUT US
Leading sustainability by high performance