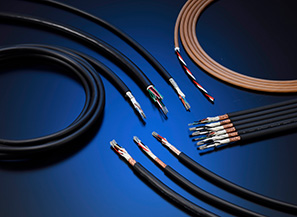 Industrial Robot Cable
Proterial, Ltd. has developed various materials and technologies for cables in response to the needs of our customers in such fields of industry as electronics, medical treatment, and others. We have designed resins offering superior heat resistance and low dusting characteristics, metals providing superior durability and transmission characteristics from the materials selection stage, and thus have accumulated many technologies pertaining to cables.
We will utilize our long-term accumulation of technologies and experience for robot cables in proposing products that solve specific issues facing customers. In addition, we can deal with custom design as per your specific requests.
Catalog / Cable selection table
Inquiries
Electric Wire & Cable Business Unit
FA Series for high bending

[ Feature ]

Realizes superior fl exibility and high bending characteristics by adopting a fl uororesin insulator and our original shield of net-structured copper foil yarn.

Model name
Rating
Specification
UL2464-SX(FA)
300V, 80°C
UL2464(FA)
300V, 80°C
UL2570-SX(FA)
600V, 80°C
UL2570(FA)
600V, 80°C
FLEX Series for small space

[ Feature ]

Achieves a diameter 10% to 15% smaller than our standard product (FA Series) by applying an extrusion technique for thin wall thickness.
Realizes a minimized bending radius by means of our original netstructured shield using copper alloy and copper foil yarn.
Enables customization for your desired UL style and outer diameter

Model name
Rating
Specification
UL2464(FLEX)
300V, 80°C
UL2464-SB(FLEX)
300V, 80°C
TWT Series enhanced with twisting resistance

*Photo of UL2464-SX (FA)

[ Feature ]

Enhanced twisting resistance by devising the proper cable stranding pitch.
Can handle specifi ed heat resistance up to 105°C.

Model name
Rating
Specification
UL2464-SX(FA-TWT)
300V, 80°C
UL2570-SX(FA-TWT)
600V, 80°C
RBT Series for low dusting and high bending

[ Feature ]

Realizes superior wear and bending resistance by combining a fluororesin insulator and an alternately woven structure.
Product awarded with IPA Clean Class accreditation (Class 1).

Model name
Rating
Specification
UL2464-SB(RBT)
300V, 80°C
LG Series with low outgas characteristic

*Photo of UL2464-SX (FA)

[ Feature ]

Restrains the dispersion of volatile gas components generated from electric wire coating material by using our original mixing technique.
Can handle specifi ed heat resistance up to 105°C.

Model name
Rating
Specification
UL2464-SX(LG)
300V, 80°C
UL2570-SX(LG)
600V, 80°C
FHF Series with heat and wear resistance

[ Feature ]

Utilizes fl uororubber with superior wear resistance for coating the outermost layer.
Offers superior heat resistance (withstand temperature of 150°C).
Also offers superior oil resistance.

Model name
Rating
Specification
CO-FHF(FLEX)
300V, 150°C
Coaxial cable for camera with bending and twisting resistance

[ Feature ]

Realizes a high bending characteristic by using our original copper alloy.
Realizes a low signal fade characteristic by adopting our original threelayered insulating structure.

Model name
Rating
Specification
CO-PPFV-SX
30V, 80°C
LAN cable for movable sections

[ Feature ]

Adapts Cat.5e-compatible 4-pair LAN cable to realize superior bending resistance and fl exibility.
Enables the mounting of a modular connector with a general shield.
Enables use of a length up to 40 m. (A length longer than 40 m can also be customized.)

Model name
Rating
Specification
UL20276-SB(FLEX-C5E)
30V, 80°C
Composite cable for combining multiple wires

[ Feature ]

Combines multiple power supply wires, signal wires, and an air tube into one cable.
Applicable for both movable and fi xed sections.
Can also be adapted to meet UL standards.

Model name
Rating
Specification
F-CO-FHV
300V, 80°C
Thermally fusible fl at cable

[ Feature ]

Multiple cables or air tubes having different ratings are fused to become flat.
Adaptable for UL standards and specifi cations of low dust and wear resistance.

Model name
Rating
Specification
RA-CO-FHV
300V, 80°C
Cable for fi xed wiring
Model name
Rating
Specification
UL10584
600V, 150°C
UL1283 TEW/UL1284 TEW
600V, 105°C
UL2464-SB TR-64 LF
300V, 80°C
UL2464-SB TEW LF
300V, 80°C
UL2586-SB TEW
600V, 105°C
UL2586 TEW
600V, 105°C
Catalog / Cable selection table
Inquiries
Electric Wire & Cable Business Unit

ABOUT US
Leading sustainability by high performance