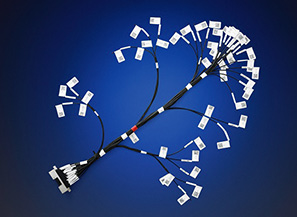 Rolling Stock Wire Harness
With rich experience in producing rolling stock cable, Proterial manufactures railway harnesses utilizing our innovative harness production line in the Czech Republic.
Our harness production line is fully digitalized. This helps improve production operators' productivity (through paper-less instruction), reduces production time and eliminates human mistakes in manufacturing complicated harnesses (including harnesses with connectors/terminals used in driver's cabs and long harnesses for lighting, power socket, under-floor, and cubicles used in passenger cars).
Our technology can contribute to your project in terms of shorter lead times, cost savings, and higher reliability.
Taking advantage of digital data, our harnesses feature an information-embedded label with a QR code containing a serial number for traceability and electrical circuit information for every wire end.
Symbols or numbers as reference points for the installation root can also be added to harnesses to reduce wire installation time. Please consult us regarding any other information you may wish to add to harnesses.
We manufacture various types of harnesses with connectors / terminals and protective covers assembled to meet different needs and applications. Our wiring technology adds value to any kind of rolling stock and buses.
Do you need any of the following in your rolling stock assembly?
Improve productivity in wire installation
Increase harness management information
Eliminate on-site connector assembly and switch to plug and play solution.
Enhance traceability.
Eliminate wiring mistakes.
What Proterial can offer:
Reduced interval time between different projects due to fully digitalized data processing system
Enhanced harness management due to serial control and trace for every operation
Increased reliability due to foolproof production system and electrical test for every connector circuit
Short lead time and stable delivery due to one piece flow operation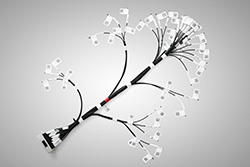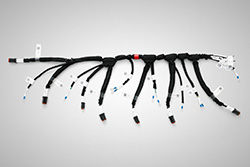 ABOUT US
Leading sustainability by high performance