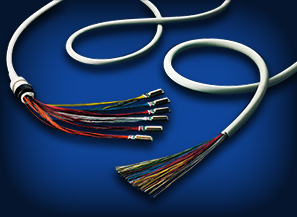 Ultrasonic Probe Cables
The cable connects the main body of ultrasound diagnostic equipment and the probe used for echographic investigation. It is lightweight, excels in elasticity and flexibility, and has high-quality electric characteristics, realizing ease of handling and high-definition images, thereby contributing to the development of medical equipment.
1

Thinner than a human hair, our copper alloy wire strands have superior strength and flexibility.

A human hair and a copper alloy wire measuring 10 μm in diameter

2

The products are subject to stringent tests, including continuous bending, pulling and twisting more than 300,000 cycle times with in-house testing conditions.
A wide range of probe cables, ranging from low capacitance types of up to 46AWG and high capacitance types of up to 48AWG, are available. They are not only fine, but are also designed to keep excellent transmission performance with lower loss using highconductivity copper-alloy conductors and thinner formed insulation with low-dielectric constant.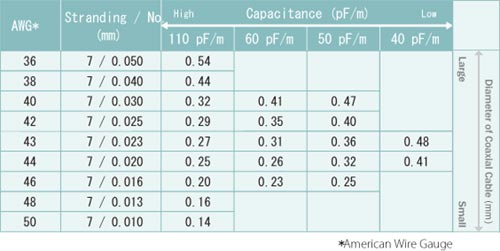 ABOUT US
Leading sustainability by high performance