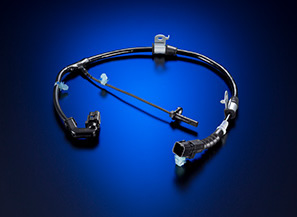 Harness for Electric Parking Brakes
We developed harnesses for use in electric parking brakes that excel in flexural resistance and durability. This helps conserve space inside the cabin and elevates vehicle safety and convenience.
1

They are highly durable and maintain a standard level of undamaged electrical properties even after being subjected to more than five million oscillations*

2

We have a global supply system with sites in Japan, China, and Europe.
*

When a vibration test is conducted under conditions recommended by Proterial
Automotive Components Business Unit

ABOUT US
Leading sustainability by high performance