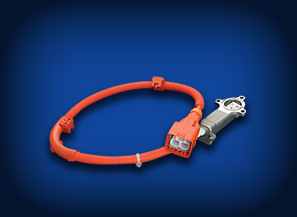 Power Cable Harness For Air Conditioner Electric Compressor
An electric compressor which can operate the air conditioner even when a hybrid vehicle engine is off is becoming increasingly popular. This compressor is driven by a 3-phase AC from an inverter and a shielded cable is used as its power supply cable. In the past, three separate shielded cables were used, but we have developed a shielded connector that uses a three-conductor cable which improves packaging and reduces noise.

Sample of cable specs : conductor size : 3mm2, 3 conductors with batch braided shield.
Automotive Components Business Unit

ABOUT US
Leading sustainability by high performance