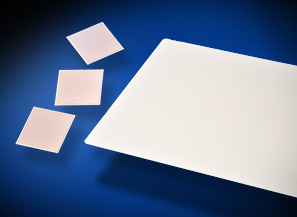 Insulating Substrate Si3N4 for Power Semiconductor Modules
By assigning high thermal conductivity to high-strength, high-pliancy silicon nitride (Si3N4) ceramics, we have improved thermal shock resistance and heat-resistant fatigue as well as greatly increased the reliability of semiconductor modules. Furthermore, we have been able to realize a new module structure that was not possible with conventional aluminum and aluminum nitride.
We propose a method to use materials tailored to your company.
We have succeeded in developing materials of both improved strength and heat conductivity, attributes which usually involve a trade-off. At 130W/m・k, we have achieved the world's highest standard.
Figure 1: Conventional Structure

1

Conventionally, aluminum and aluminum nitride have been used in the insulation boards of power semiconductor modules, but the mechanical strength is low and there are limitations with the structural design of the module itself. Figure 1 shows the complicated construction.
Figure 2: New Module Structure (Simplified)

2

By using the newly developed high-strength, highly heat conductive Si3N4 in the insulation board, we have been able to simplify the module structure, as shown in Figure 2. It has become possible to affix a thick Cu Wiring board, thereby lowering thermal resistance. The construction has been further simplified by eliminating the heat dissipation board, resulting in cost reductions.
Fields of Applications:
1

Can be widely used as a structural material where thermal shock resistance and heat-resistant fatigue are required.

2

Its high degree of purity makes it suitable for use as a semiconductor manufacturing device material.
Insulation boards for Peltier elemental modules
Semiconductor manufacturing equipment material
Heat-resistant structural material
[USA]
Proterial America, Ltd.
Chicago Office
2101 S. Arlington Heights Road Suite 116
Arlington Heights, IL 60005-4142
TEL : +1-847-364-7200
FAX : +1-847-364-7279
[Europe]
Proterial Europe GmbH
Head Office
Immermannstrasse 14-16,
40210 Duesseldorf, Germany
TEL : +49-211-16009-67
FAX : +49-211-16009-30
Milano Branch Office
Via Modigliani 45, 20090 Segrate, Milano, Italy
TEL : +39-02-7530188
FAX : +39-02-7532558
London Branch Office
Sefton Park, Bells Hill, Stoke Poges, Bucks. SL2 4HD. U.K.
TEL : +44-1628-585000
[Asia]
Proterial Asia Pacific Pte. Ltd.
12 Gul Avenue, Singapore 629656
TEL : +65-6861-7711
FAX : +65-6861-9554
Proterial Hong Kong Limited
8/F., Building 20E, Phase 3,
Hong Kong Science Park, Pak Shek Kok,
N.T., Hong Kong
TEL : +852-2724-4183
FAX : +852-2311-2095
Proterial (China), Ltd.
11F, Chong Hing Finance Center,
No. 288, Nanjing Road (West),Shanghai, 200003, China
TEL : +86-21-3366-3000
FAX : +86-21-3366-3012
Power Electronics Materials Business Unit

ABOUT US
Leading sustainability by high performance