Sustainability Management
The Group recognizes that a sustainability strategy is a critical strategy for achieving medium- to long-term growth and increasing corporate value. Based on this premise, we are advancing measures to transform our business structure in the Medium-Term Management Plan, which will end in FY2022. This term is positioned as a preparatory period for future growth, and the plan seeks to achieve a business structure capable of securing capital for future growth investments. As a result, we returned to profitability in FY2021, and are steadily improving our business structure. Besides accelerating transformation and growth from FY2022 onward, we will further promote our sustainability strategy with targets for 2030. Through these measures, the Group aims to achieve growth with the Vision "Leading sustainability by high performance."
Strategy Plans and Measures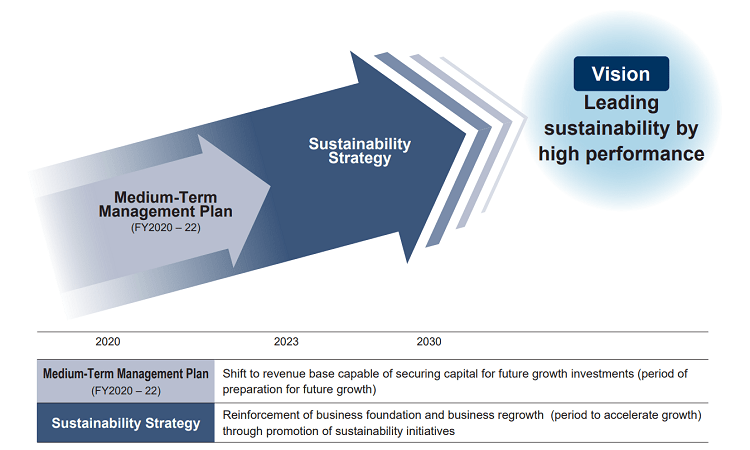 Framework for promoting sustainability strategy
The Group has established a Sustainability Promotion Committee. It deliberates and decides important sustainability-related policies and measures, as well as share progress and achievements to seek further improvements. The committee chair is the Group's Chairman, President and CEO, and its secretariat is part of the Corporate Planning Division. Under Executive Officers, who are in charge of promoting initiatives for each materiality, related measures, critical management indicators, and their target values are studied and decided. The initiatives are implemented in cooperation with both Business Divisions and Group companies.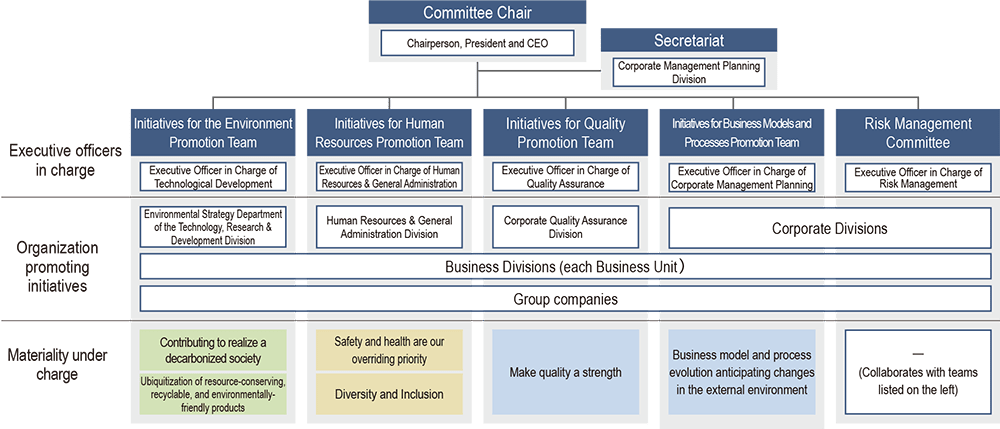 Materialities/Major Measures/Key Management Indicators
Along with setting major measures to respond to six materialities identified for the environment, society, and governance, the Group has set indicators to manage the progress of major measures. We are implementing steady measures to achieve the target values of these key management indicators by FY2030. Through achieving these targets, we aim to greatly increase our corporate value as a materials company that "leads sustainability by high performance," along with developing superior competitiveness at the top level of industries.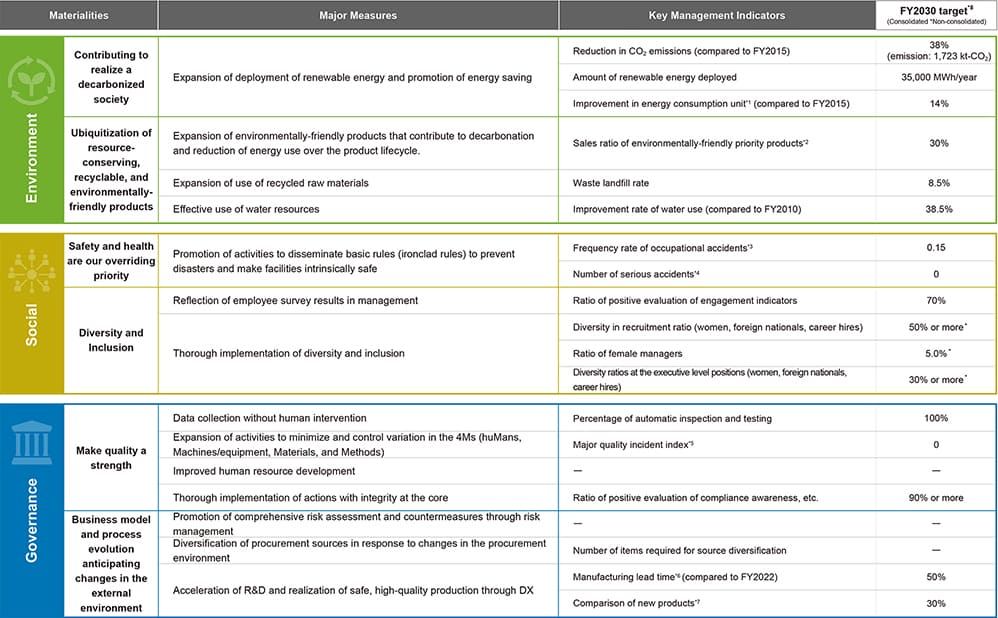 *1

Energy consumption unit: Energy consumption divided by sales

*2

Environmentally-friendly priority products: Selected products that are being expanded in terms of business strategy and contribute highly to solving environmental issues such as climate change and effective use of resources. To strengthen environmentally-friendly products, we are currently studying definitions of management indicators, target values, and strategies to achieve them.

*3

Frequency rate of occupational accidents: Number of fatalities and injuries due to occupational accidents divided by total actual working hours x 1,000,000 (number of accidents per 1 million working hours in a calendar year).

*4

Number of serious accidents: Serious accidents include fatalities, serious injuries equivalent to fatalities (disabling injuries of Severity 7 or higher), and accidents in which three or more persons are injured at the same time.

*5

Major quality incident index: Index of accidents that caused serious damage to customers' bodies or property, or serious damage to society (including violations of laws and regulations), with FY2020 set as 1.

*6

Manufacturing lead time: Percentage decrease in the time from the start of manufacture to the delivery of products for priority products. FY2022 figures are used as the benchmark

*7

New product ratio: Ratio of sales of new products to consolidated sales revenue. New products are registered as those that open up new markets or new applications, or have significantly improved performance. A product that has been become generalized three years after registration as a new product is removed from the register.

*8

Indicators that are not suitable and those with a non-disclosure policy are indicated with "—".